Individual counseling on a marriage counseling website?
Well yes, I also provide counseling for individuals.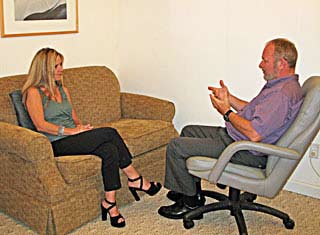 It's not quite as inconsistent as it might seem. The most common type of counseling is one to one individual counseling… and the number one reason adults seek counseling is due to problems with their primary relationship.
And of course, nearly all counseling or therapy includes dealing with some aspect of relationships; whether with a primary partner, family, kids, co-workers, neighbors or whomever else.
But, the process of individual counseling does differ from marriage counseling… primarily because the focus is exclusively on you and your concerns. Individual counseling is useful when you're experiencing dissatisfaction or concerns that seem primarily 'struggles within yourself', which are interfering with you living life the way you want.
Individual therapy is likely to be a bit more 'in depth' than couple's counseling. In addition to looking for solutions that work, we're also apt to spend more time to understand how you make choices, what influences you and why, where you get stuck, among other concerns.
The specific approach we'll use will depend on your strengths, your personality style, and how you organize information and explore new ideas. Of course, we'll also be taking into consideration the urgency of your concerns and your overall goals for counseling.
I offer a free consultation so we have an opportunity to meet and you can get a sense of me as a counselor, before you make any commitment.
Call me to schedule your appointment
Individual Counseling for Marriage / Relationship Concerns
When there are challenges in a relationship, counseling usually works best when both partners participate. But, you may be ready to access some outside assistance and your partner is resistant or reluctant… or just plain unwilling.
That doesn't mean that you -and your relationship – can't still benefit from counseling. Quite often even if only one partner is actively making changes in their understanding and choices, it can result in substantial improvements for the relationship overall.
For instance, in counseling you might become aware that you and your partner follow a familiar sequence in the discussions that usually lead to an argument. If you stop "playing out your part" in that pattern and do something else instead, it's difficult for your partner to automatically continue with their part of the pattern.
So, even though you were the only one aware of the pattern, by interrupting the sequence you automatically create an opportunity for both of you to make a change.
Of course, the hope is that your partner will also join us in the counseling itself. Even if we start out with individual counseling, if your primary concerns are regarding your marriage or relationship, I anticipate we may shift to couple counseling. It's actually quite common for a reluctant partner to start participating once they see their spouse is serious and going to continue counseling with or without them.
To schedule your free initial consultation, please call (828) 686-9601.